Management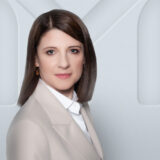 Julita Balcerek
Head of Operations and Scientific Affairs
I provide substantive and operational oversight of projects across departments.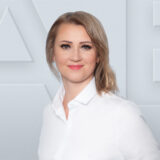 In Manufacturing, we combine scientific knowledge with advanced technology and turn it into innovative projects. Our primary focus is to produce sterile biological products through the steps of cell culture, purification, and filling and packaging of the finished product. We have state-of-the-art process equipment and are the first – and so far the only – plant in the world to use "orbital shaking" technology at 2500L scale. Our structure encompasses a wide variety of disciplines, such as:
production planning,
manufacturing of recombinant protein sterile products,
process validation,
procurement of raw materials for manufacturing, materials for Quality Control and R&D activities,
investment and qualification of equipment and systems,
personnel training,
working in compliance with GMP guidelines,
logistics in clinical trials and supervision of investigational drug products.
Edyta Bartusik-Czubek
Manager
The majority of new projects originate within the Development Department. It is here that we develop innovative solutions implemented to optimize the processes of mammalian and insect cell culture development, as well as the purification processes of obtained recombinant proteins. We are responsible for key activities related to the development, qualification, and transfer of quantitative and qualitative analysis methods, both necessary during the process development stage and for the characterization of the final product. We also conduct clinical studies from the planning stage to the analysis of pharmacokinetics, pharmacodynamics, and immunogenicity of drugs administered to patients.
Within the scope of the department's work, we focus on the design and obtaining of expression systems, as well as the derivation of stable cell lines for the production of biological drugs, including biosimilars, and the development and optimization of protein purification methods.
We deal with the transfer and characterization of protein manufacturing processes. We replicate the manufacturing process on a laboratory scale to verify the impact of various factors on the final product quality, starting from cell culture and ending with product purification. We also actively participate in scaling up the manufacturing process.
In order to continuously and reliably monitor the progress of the conducted processes and the quality of the resulting products, even at early stages of development, we develop, qualify, and validate analytical biological and physicochemical methods. A wide range of analytical methods is also utilized for the characterization of protein products and in similarity studies for biosimilar molecules.
We ensure the highest quality of all the aforementioned activities through a team with extensive expertise and by consulting proposed solutions with EMA and FDA regulatory authorities.
Another distinguishing feature is our experienced team of clinical analysts, focusing on developing demanding and unique analytical methods. These allow us to characterize key drug parameters such as pharmacokinetics, pharmacodynamics or immunogenicity using innovative analytical techniques and equipment – all within GLP-certified laboratories.
We are also directly involved not only in verifying the workflow at clinical sites, but also actively participate in the entire process, which includes:
Designing the clinical trial and consulting its strategy with the EMA/FDA,
Creating the study protocol,
Clinical trial start-up, overseeing and monitoring the work of clinical sites and CROs,
Creating reports and closing the clinical trial,
Preparation of the clinical part of the registration application to EMA/FDA for a medicinal product.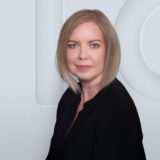 Dorota Owczarek – Hamrol
Director, Qualified Person
Working in the Quality Control Department provides you an opportunity to participate in a variety of projects. We work with modern equipment and a wide panel of various analytical methods, such as high-performance liquid chromatography, flow cytometry, mass spectrometry, capillary electrophoresis or real-time polymerase chain reaction (RT-PCR). We conduct in vitro cell cultures and biological activity tests. The primary tasks of the Quality Control Department include:
testing the biological and physicochemical properties of proteins produced at Mabion, quality verification of all raw materials used in the production process, testing the stability of products at all stages of production and determining their shelf life – verifying the microbial purity and/or sterility, development of quality documentation.
In addition, our team actively participates in the preparation of data needed for product registration and validation of analytical methods, as well as supports sterile processes such as product filling and simulation of the product filling process.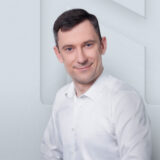 Our Quality Assurance Department maintains the developed standards at the highest level. It oversees the efficient and proper functioning of the company, which includes:
optimizing operational procedures,
defining procedures based on risk management,
supervision of trainings,
audits of material suppliers and contract manufacturers,
internal audits,
quality reviews of manufactured products,
supervision of equipment qualification,
process validation and subsequent verification,
supervision of the change control system and verification of its effectiveness.
Due to the nature of our activities, we cooperate with all departments and take part in every stage of the drug development process: from early stages to distribution.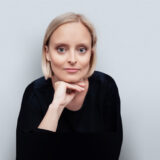 PhD Dorota Jaros
Regulatory Expert, Biotechnology Specialist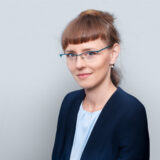 Anna Małecka
Regulatory Expert, Biotechnology Specialist
Working in the Regulatory Affairs Department provides you the opportunity to interact with Manufacturing, R&D, Quality Control, Quality Assurance departments. We support projects through internal consultations, documentation assessment, and problem solving. We identify risks for projects and find solutions for them. We also provide support to external consultants and, if necessary, make inquiries to Regulators as part of advisory procedures. We support projects by identifying quality requirements at different phases of drug development, as well as selecting the optimal regulatory path. We plan analytical and clinical studies and oversee the development and validation of analytical methods.
Working at Regulatory Department requires high qualifications, which include scientific and technical knowledge, together with awareness of regulatory guidelines, restrictions and requirements. Therefore, we recruit specialists from various areas, mostly through the internal recruitment procedures.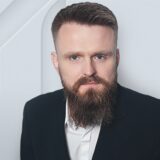 Tomasz Kurpiewski
Director
The Maintenance Department is responsible for maintaining the plant's infrastructure and equipment in proper technical condition for safe operation. We are responsible for the availability of utilities, necessary for the operation of the plant, including clean utilities, manufacturing operations. We supervise the production of WFI water, provide electricity, heat, cold, and technical gases. We take care of an extensive HVAC system to ensure environmental conditions for rooms of different cleanliness classes, according to ISO standards and pharmacopoeial guidelines. There is also a qualification unit within the Maintenance Department. The unit works closely with the technical part of the maintenance department, and with every department within Mabion. It is responsible for maintaining the equipment of all departments in a qualified condition. It also supervises measuring and control equipment to ensure timely calibrations. The Maintenance Department works in compliance with the GMP system.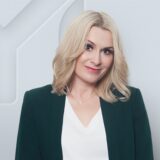 It is a department that combines competences from different areas of a business organization. Its interdisciplinary nature allows for broad support of many of Mabion's activities, facilitating the execution of the Company's projects. Administration Department specialists are responsible for the following issues:
company information policy (PR/IR),
hard and soft Human Resources (including employee development management and recruitment),
EU projects,
legal services,
purchasing and procurement,
management office,
environmental protection and Integrated Management System,
occupational health and safety,
housekeeping.
The Administration team, with the support of substantive teams, participates in key scientific and business projects of the company, including international ones. It takes care not only of the company's external image, but also of its internal environment, e.g. by organizing corporate social responsibility events or team building meetings. Working in this multidisciplinary team provides the opportunity to participate in many projects implemented by Mabion and guarantees rapid development of competences.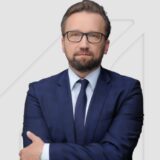 Grzegorz Grabowicz
Member of the Management Board
Our Finance Department combines accounting, financial controlling, treasury and IT functions. In its daily work it provides information about the company's activities, assets and financial situation, which is necessary, compliant with the law and gives a proper picture of the reality. It cooperates with all departments of the company and external advisors, as well as institutions, to which it periodically and continuously reports. Transparency and the highest standards are confirmed by annual reviews and audits carried out by independent audit firms belonging to the top ranked audit institutions. The Finance Department also ensures that economic events are reflected correctly and in accordance with regulations, which is the basis for analyses performed for current reporting needs and serves as the basis for extrapolations and short- and long-term forecasts. The department also performs a liquidity management function that allows for proper planning and settlement of ongoing projects or transactions taking into account the necessary sources of funding to be obtained.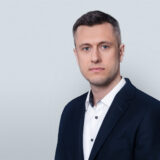 Bartłomiej Czubek
Manager
The main task of Business Development (BD) department is to proactively search for the potential bio-tech industry partners, and subsequently manage cooperation with the contracted companies in a way that addresses their business needs and ensures that the offered services are properly adapted to the undertaken projects.
The BD department specializes in building the complex portfolio of CDMO services, which spans the entire process of biologic drug development and manufacturing ("end-to-end" CDMO). We constantly cooperate at the substantive level with Mabion's operational and regulatory units in order to ensure the achievement of project goals and guarantee the compliance with applicable regulatory guidelines (EMA and FDA). Our individualized approach and focus on high quality of the delivered services allow us to obtain the best possible results and achieve full satisfaction of both sides with the established cooperation.
Our unit performs comprehensive market analyses and constantly monitors the emerging business trends to identify the current demand for contract services within the biopharmaceutical industry. Thanks to our regular participation in branch events such as BIO International, CPHI and Bio-Europe, as well as targeted marketing initiatives and proactive approach to clients, we constantly improve the brand recognition on international CDMO market.
The Business Development department is driven by the culture of innovation, and passion for building long-term relationships, making Mabion a trusted partner in every aspect of bio-tech drug development and manufacturing.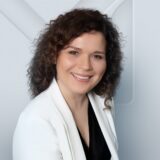 PhD Anna Czubatka-Bieńkowska
Manager
The Project Management Office ensures effective execution of projects and defines standards and guidelines for their implementation. The tasks of the Office are interdisciplinary – during the process they combine the following responsibilities: business, legal and substantive, including among others:
project implementation and optimization support at every stage,
priority management based on schedules, including defining roles and responsibilities necessary in each project,
participation in project methodologies and processes,
supporting various stakeholder groups,
distribution of information important in business areas,
standardization of processes across departments,
coherence of activities by developing a common language, culture and way of thinking about projects.
The most important role of the Project Management Office is to bring people, processes and tools together in a way which ensures project success. Our daily work is to implement and combine best practices and processes.
Meet our Team Leaders
Departments in Mabion are divided into smaller teams that perform key tasks for the efficient operation of the Company, led by Managers Departments and Project Team Leaders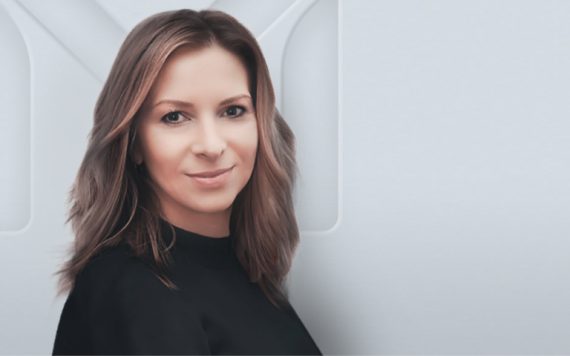 Małgorzata Łuszczyńska
Funding Specialist, Project Leader
At Mabion since 2019.
I represent the Administration Department, where I deal with projects financed from various external sources. I perform duties related to the entire project life cycle, i.e. from the preparation of application documentation, through the project implementation, to the project life cycle.

Thanks to my work at Mabion, I have added an additional layer of knowledge in the field of R&D projects to my many years of experience in project management. Constant challenges and different types of projects mean that this work constantly provides new excitement, and the successes achieved drive me to further action.

I value Mabion for:
Freedom of action, constant development, possibility to take challenges and most of all – great atmosphere in the team and friendly people.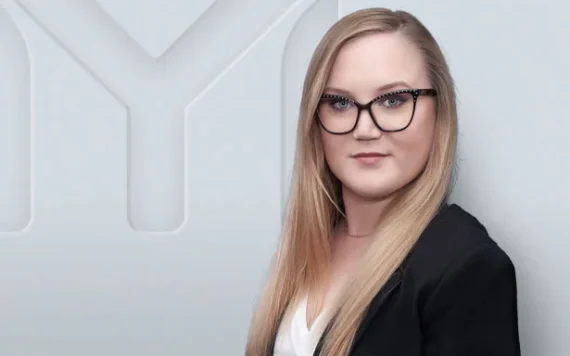 Ewelina Zielińska-Rosik
Production Master
At Mabion since 2015.
I started my adventure with Mabion as a Production Technician in the Manufacturing Department. Within a year, I managed to get promoted twice: first to the position of Bioprocess Technician and then to Process Biotechnologist – and so far no one else has managed to repeat it. In mid-2017, I officially became a Shift Leader, and six months later I took on the role of Process Engineer.

In early 2021, I completed my application for Master of Manufacturing, and I still hold that position today.

In the Manufacturing Department, I have had the opportunity to work on all stages of the manufacturing process, but the closest to my heart has and always will be cell culture. Currently I am mainly responsible for supervising the proper course of the manufacturing process as well as approval and verification of related documentation. I am also responsible for the areas related to training, deviations and CAPA in the Manufacturing Department. Additionally, together with Anna Dąbrowska, I recruit new employees to join our (best) team.

I value Mabion for:
The lack of routine and the opportunity to work in many different areas related to manufacturing in a GMP environment, thus having the opportunity to continuously expand my knowledge and skills.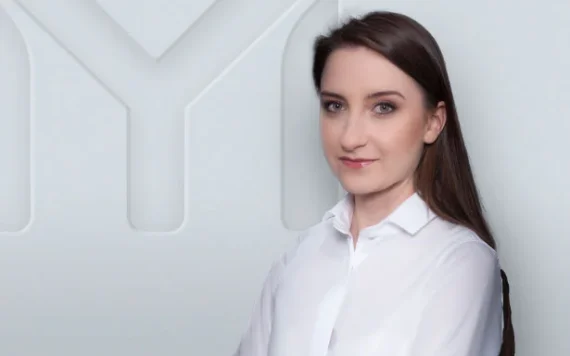 Eliza Kęsy-Siwik
Specialist Clinical Analyst, Project Group Leader
At Mabion since: 2016 r.
I started my work at Mabion as a Biotechnologist in the Research and Development Department at the GLP Research Unit at ul. Fabryczna in Łódź. Since the beginning I have been involved in the analysis of samples from patients in clinical trials conducted by the company. I participated in the development and validation of the method used to assess the pharmacokinetics of the MabionCD20 drug.

As of 2019, I have been the project leader to implement methodology to assess immunogenicity in a clinical trial. I specialize in the development and validation of analytical methods in a GLP environment. I am a student at the International Doctoral School of the Medical University of Łódź, where I am pursuing my PhD thesis in collaboration with Mabion S.A. Information extraction and analysis is my hobby – so if you are looking for a specific solution, I am definitely the go-to person!

I value Mabion for:
Amazing people, unparalleled specialists and continuous development opportunities.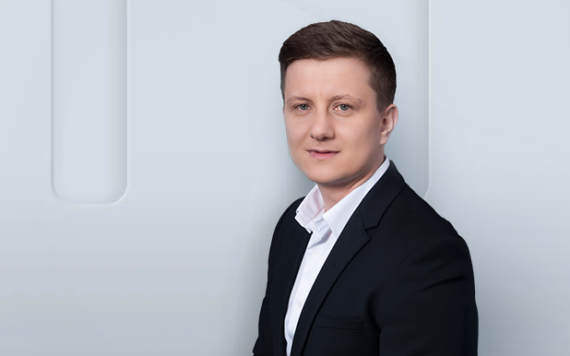 Paweł Pobiedziński
Head of Logistics and Procurement
At Mabion since: 2016.
I develop in parallel with Mabion's logistics. Thousands of e-mails sent, hundreds of meetings held, many interesting trips in Poland and abroad make me feel part of a group of specialists for whom the world of biotechnology and sterile production is everyday life.

Securing materials that enable the continuity of production processes is my key task.

Since I have been working at Mabion, our drivers have traveled 2 million kilometers in many parts of Europe while the rest of my team has completed orders for over 100 million PLN.

I value Mabion for:
Trust in the tasks, regardless the importance of the project.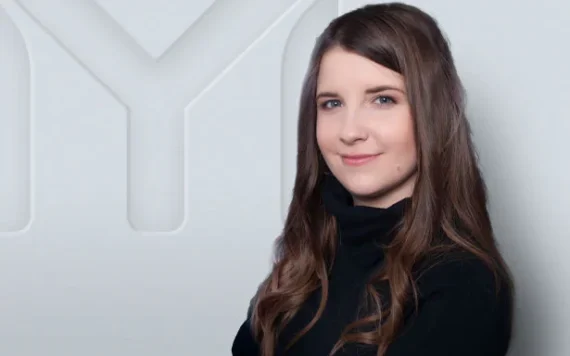 Paulina Toboła
Project Group Leader, Biochemist Specialist
At Mabion since 2017.
I began my adventure with Mabion as a Biochemist in the Research and Development Department. It was here that I learned everything about chromatographic techniques, their development and application. This enabled me to participate in several demanding studies necessary for the registration of a biosimilar drug, including the biosimilarity study, which is the basis for the submission of applications.

I have also had the pleasure of serving as the Analytical Project Group Leader for nearly 2 years. Every day, my team and I develop the biological and physicochemical methods necessary for process development and characterization of intermediates and final products. Recently, we have also had the opportunity to apply the experience we have gained so far in our collaboration with Novavax.

I value Mabion for:
Inspiring people, constant challenges and unlimited growth opportunities.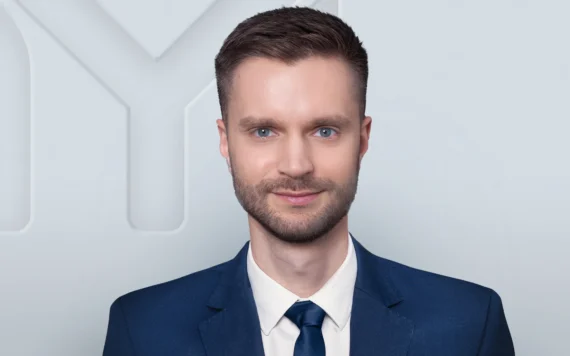 Mateusz Dobrowolski
Project Group Leader, Senior Biochemist
At Mabion since: 2017.
I work in Research and Development, where I started my career as a Biochemist. At Mabion I have gained knowledge about mass spectrometry and participated in the development of new methods using this technique. The methods are currently used in studies included in the registration dossier of the flagship project MCD20. Since 2020, I have participated in an Implementation Doctorate Programme at Mabion in the field of mass spectrometry.

Parallel to the substantive path, at Mabion I have gained knowledge and experience in project and team management. As a result, in 2021 I took on the role of Downstream Process Group Leader and my team has successfully transferred the downstream part of Novavax's vaccine manufacturing process at lab scale.

I value Mabion for:
For the people I work with – it is a real Team!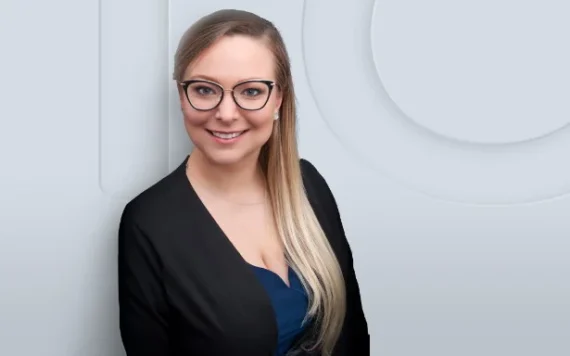 Anna Dąbrowska
Planner
At Mabion since 2015.
I started working at Mabion right after graduation. I moved from Wrocław to Łódź to gain experience in the biotechnology industry.

It was supposed to be a temporary job – for a year, maybe two, but I have settled here permanently.

Mabion was only supposed to be my place of work, but it was here where I met my husband and built my family. I also met many wonderful and valuable people at Mabion.

I value Mabion for:
The opportunity for development on many levels, the chance for a relatively fast promotion, friendly atmosphere, interesting and diverse tasks and young and energetic team, because in my opinion people are the greatest value of this company.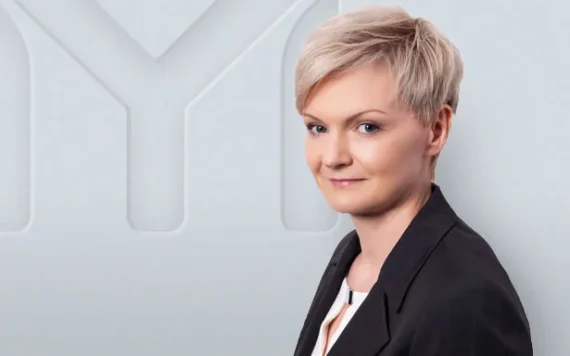 Joanna Królasik
Head of Microbiology Laboratory
At Mabion since 2019.
I joined the Mabion team in 2019, when I took on the role of Microbiology Laboratory Manager in the Quality Control Department. Every day at Mabion I gain new knowledge and improve my skills to best support my team.

I coordinate the work of the microbiology group, whose main task is to supervise the microbiological safety of materials and products and the manufacturing environment within the GMP activities. In addition, with the team I lead, I am involved in activities related to the development of documentation and hygiene plans, equipment and room cleaning validations, test method verification and implementation, disinfectant efficacy evaluation, and most recently, implementation work for the manufacture of a new vaccine.

I value Mabion for:
The opportunity to grow, gain new knowledge and professional experience, as well as the support in activities from my superiors.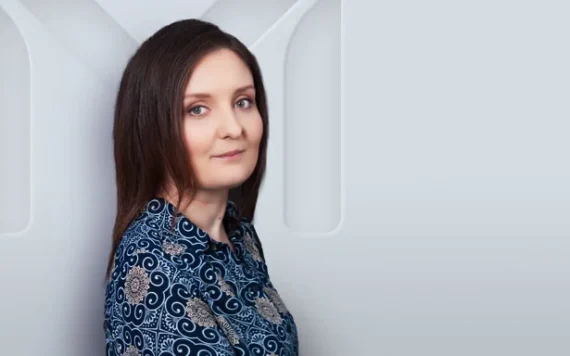 PhD Małgorzata Urbaniak
Senior Biochemist, Project Group Leader
At Mabion since: 2015.
I have been working at Mabion since 2015. I started my adventure in the company as a Junior Biochemist Specialist in the Research and Development Department. Since then, until today, already as a Senior Biochemist Specialist, I have participated in the development of analytical methods for the assessment of quality attributes of therapeutic proteins. I am particularly fond of methods based on high-performance liquid chromatography coupled to mass spectrometry.

In addition to developing my specialist skills, Mabion has given me the opportunity to grow in project management and lead my own project group. In 2019, I became a project leader, overseeing a project related to biosimilarity assessment between a reference drug and a biosimilar drug candidate developed by our company. In 2021 I was promoted to project group leader. This has allowed me to share my experience with others and support their professional development as well.

I value Mabion for:
The opportunity to work with people for whom work is also a passion. Mabion is first of all people – creative, open and cooperative. The support we give each other during the realization of everyday tasks and the co-responsibility each of us takes for the success of our projects make it easier to achieve the goals we set together. In such a working environment, it is not only the successes that make us happy, but also the process of achieving them.
Our Specialists
We have high-class specialists in our ranks, whose experience, meticulousness and willingness to face every challenge are guaranteed the highest quality of work.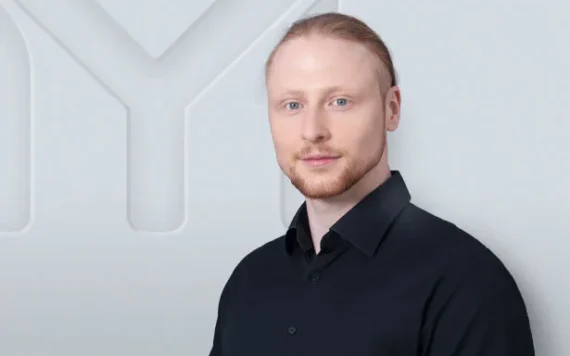 PhD Wiktor Pszczółkowski
Senior Validation Specialist
At Mabion since 2015.
I started my adventure with Mabion in the Manufacturing Department, where I participated in technology transfer and scaling from a pilot facility to a manufacturing plant as a process engineer.

Since 2017, I have been working in the Quality Assurance Department, where I perform tasks related to the development and validation of manufacturing processes and sterile production. Knowing the manufacturing processes inside out, I am involved in the creation of registration dossiers for biological drugs and the development and implementation of new products.

I value Mabion for:
Flexibility in scheduling and avoiding the beaten path.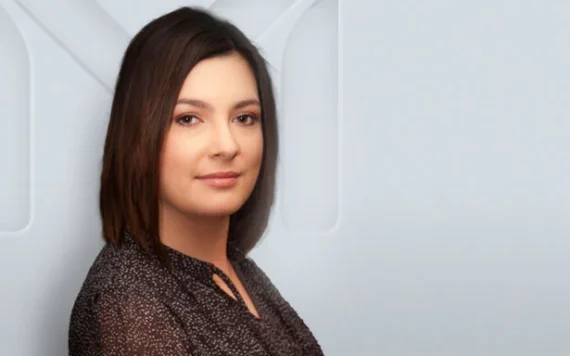 Olga Kurman
Project Manager
At Mabion since 2019 r.
My story with Mabion began in 2019, when I decided to change something in my life. I turned my world upside down and from Warsaw I came all the way to Konstantynów Łódzki, where I still live today.

In my everyday work I am associated with the Quality Control Department, where I have been acting as a Shift Leader since the very beginning. Initially I joined the microbiological group, where I met wonderful people, thanks to whom I could learn new methods connected with the production of sterile medicinal products. In May 2021, I took up a challenge and decided to make another change: to become a Shift Leader in the Biological and Physicochemical team, where I coordinate the current work of the team and learn new methods.

Remember: better late than never. Take your chance. The Mabion team and I are waiting for you.

I value Mabion for:
The opportunity for personal development, support from the team and a challenging job that allows me to gain new knowledge and experience.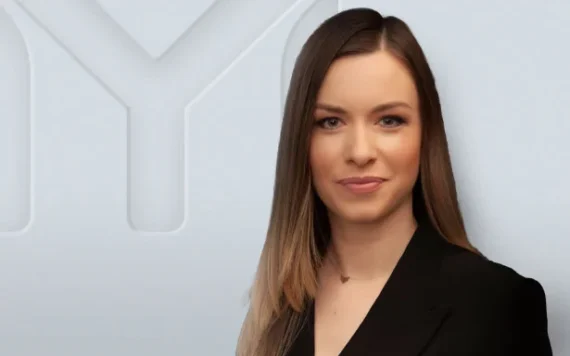 Sylwia Wilczek
Senior Documentation Specialist in the Quality Control Department
At Mabion since 2012.
As a biotechnology graduate, I started as a Molecular Biologist in the Research and Development Department, where I was responsible for the optimization and validation of ELISA immunoenzymatic tests used in pharmacokinetic studies of the MabionCD20 medicinal product. After a few months, I joined the newly established Quality Control Department, where I performed biological and physicochemical analyses of starting materials and products resulting from the manufacturing process.

Since 2016, as Documentation Specialist, I have been carrying out tasks related to the creation and verification of pharmaceutical quality system documentation. I participate in audits, inspections, projects related to validation and scaling of the manufacturing process and creation of registration documentation. Currently, together with the whole team, I am participating in the preparation of the quality system for the manufacturing of the SARS CoV-2 rS vaccine antigen.

I value Mabion for:
Positive team atmosphere.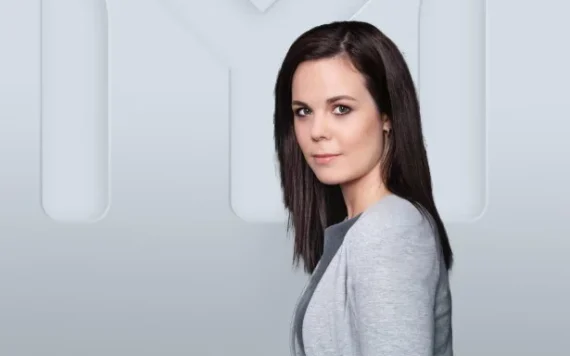 Aleksandra Stasiak
Senior Risk Management Specialist, Project Leader
Previously also: process biotechnologist, process engineer and shift leader
At Mabion since 2014.
I started my adventure in the Manufacturing Department, where I learned the technology of MabionCD20 production from scratch. I was a shift leader, participated in process scaling and technology transfer to the unit in Konstantynów Łódzki.

I changed departments in 2017 and have since been part of the Quality Assurance Team, where, in addition to GxP-related tasks, I have the opportunity to work on registration documentation and clinical trials, and recently also on the vaccine development project. Nothing what is new is strange to me ;).

I value Mabion for:
Dynamic processes, multidimensional tasks, opportunity to work in a creative environment with valuable people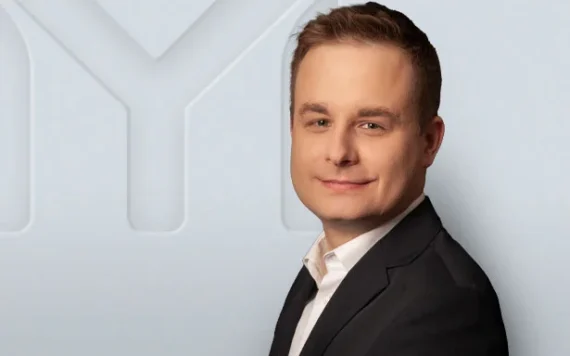 Adam Tuszyner
Registration Documentation Specialist, Pharmacovigilance Specialist (Responsible Person)
At Mabion since 2018.
I started working at Mabion in late 2018 in what was then known as the Registration and Clinical Trials Department. From the very beginning, I was allowed to sail into wide waters – I participated in the registration process of the company's flagship product (MabionCD20), in the European Medicines Agency inspection, and then in the planning of subsequent clinical trials and new projects.

As a Project Leader I was responsible for the development of the plan for the clinical trial of MabionCD20 called MabionCD20-003RA (MABRIDGE), which is planned to commence in several dozen centers in Europe and Asia. Thanks to this opportunity, I could learn the secrets of clinical trials in a record time, have a close look at the mechanisms of drug registration in Europe and the USA, and, perhaps most importantly, gain invaluable experience in working for a growing pharmaceutical company.

Last year, the knowledge and experience gained allowed me to transfer to the Regulatory Affairs Department, which acts as a link between the company, regulatory authorities and other external entities. Currently, I also hold the position of Responsible Person for Pharmacovigilance, so I ensure proper drug safety oversight and the health of patients participating in our trials.

I value Mabion for:
The opportunity to continually grow and improve my professional skills and the hardworking and intelligent people who make up this company.
Do you want to work with us?
If you are looking for work in the biotechnology sector, check the CURRENT JOB OFFERS.